These go best with opaque black tights, high heeled oxfords, and a tailored wool coat.
This flattering number
also comes in black, but I am trying to avoid the days when my wardrobe consisted exclusively of everyone's favorite slimming shade. I love the peter pan collar and the subtly sexy keyhole front. It's the essential playful basic, and will take you everywhere from brunch with the boyfriend's grandparents to a night of bar hopping with your best friends.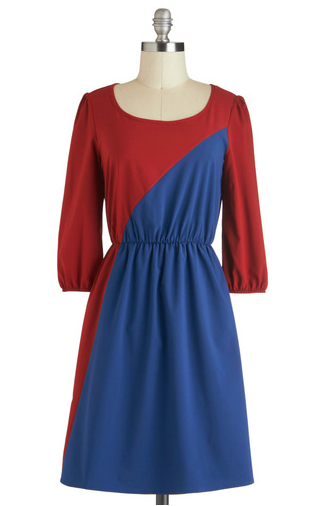 Gorgeous, minimalist perfection
that would be at home in the office or your favorite corner coffee shop. And it's so put-together on its own that you don't even have to worry about layering to get a complete look. I love dresses like that because I am a touch lazy when it comes to accessorizing. All you need is a soft scarf for some extra warmth and a cozy coat to make this December-ready.
I know I said I'm avoiding black, but
this dress
is just too sweet and simple to ignore. I know a potential go-to frock when I see one, and our black and cream friend here has all of the qualities. It's basic and flattering with fashion-forward touches. It will go with your new cardigan, it will look great with your funky vintage boots, it is easily updated with patterned tights. You could live in this dress! I would wear it to church or work or even a pair it with a glittery headband for a swinging holiday party.
Today is crisp and cool and sunny like a freshly picked Pink Lady apple.