A few weeks ago I was getting ready for a date with my boyfriend. I put on one of my favorite dresses (a deep purple cotton a-line number with long bell sleeves), slipped on some sheer black tights, and stepped into my favorite pair of black riding boots. After a quick dusting of translucent powder, I threw on my coat and looked in the mirror. The whole outfit looked pretty nice, but that was kind of it. While there was nothing truly wrong with it, it was missing a certain something. That certain something was the thing that gets people photographed by the Sartorialist. It was the sort of thing that takes you from being a stylish person to having personal style. And that thing was polish. Looking polished is all about having a continuity in your appearance that didn''t just happen because you coordinated colors. It's about small touches of elegance or individuality that show you spent time on pulling your outfit together and still look effortless. Achieving that look is deceptively simple. You just have to remember: it's all in the details. I'm about to list some ideas for how to get inject that sort of class into your ensembles, but it's just the beginning. To show you that there's really no limit to the paths to polish, I've also included a bunch of my favorite images from the Sartorialist. So while my tips are specific, remember that everything, from bracelets to headbands to a fresh face of makeup can take your look from ordinary to extraordinarily put-together.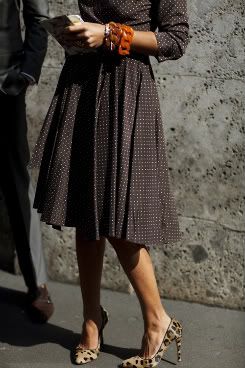 This was just the case with my date night outfit. There were very simple changes to be made. I decided accessories were the key to adding polish and cinched the waist of my dress with a thick, black leather belt. When you're looking to achieve a together kind of look, never underestimate the power of accessories. A belt, whether visible on the hips of your skinny jeans or giving you shape about the waist, is an extra detail that makes an outfit look grown-up and together. For bonus style points, try a belt in a fun color or pattern. A small quirky touch can go a long way. Try
this belt
from Betsey Johnson or
this one
from Macy's. Scarves are a direct route to polish as well. No matter how you tie them, they add flair, personality and thought to any ensemble. For some tips and tricks and tying your scarf stylishly, Academic Chic has compiled
a list
of some how-to's.
Back to the date night outfit. My tights were a problem. Basic black tights work well when you're wearing a busy dress, but my frock was simple and the tights were falling flat. If this is the case, it's time to switch up your leg wear for something with personality. It's important to still keep it subtle because while I love loud tights as much as the next girl, polish comes from the little details. A rainbow harlequin print hardly adds up to elegance. In my case, I changed into another pair of black tights, but these ones had sheer striping on them. I also love
this pair
from Urban Outfitters and
these ones
from Anthropologie.
After the outfit itself enjoyed an update, I turned to my makeup. I've never been very comfortable wearing a lot of makeup, and typically forego it all together. But a date is a special case so I had sprung for powder. Another glance in the mirror, however, called for a few more finishing touches. I suddenly remembered something my mom had always told me: even if you are wearing no other makeup, never forget your mascara. With that, I pulled out my favorite tube of the stuff and swiped it onto my lashes. A wash of a shimmery nude shadow on my eyelids completed the look. Some people think they have to pile on the foundation to look pulled together, but really all you need is some mascara on your eye lashes and maybe a little bit of blush. Looking natural and looking like yourself is looking polished. Sometimes it's really fun to go all out with makeup, but if you're short on time, rest assured that a five minute makeover will do.
My date night look was suddenly very pulled together and very elegant. And I did it all in under ten minutes. One more survey of the ensemble left me satisfied and my stylish self dashed out the door for dinner and a movie. If you have more time than I did, consider nail polish as a finishing touch. Whenever my nails are painted, I'm always struck by how automatically classy they make me look.
This shade
by Essie is my current favorite, but even if you've opted for an electric blue lacquer, you really can't lose.